By Tony St-Pierre, Surveyor, F.Eng.
President of XEOS Imaging Inc.
February 18, 2022
Digital Twin Cities in 3D mark the start of a new digital era in city management. XEOS Imaging, a Quebec company known for its superior expertise in acquiring and processing digital aerial photography and LiDAR topographic data, is the first Canadian company to bring Twin Cities—highly realistic 3D renders of cities—to market.
What is a Twin City?
A Digital Twin City is a highly realistic virtual version of a city. The virtual city is georeferenced, which means that the whole city is perfectly positioned in 3D space. Georeferencing allows you to directly link a real location on the ground with the same position in its virtual Twin City. Among other things, you can overlay different layers of map data like survey data, or even real-time data like the GPS position of cars driving on roads, directly in the virtual city.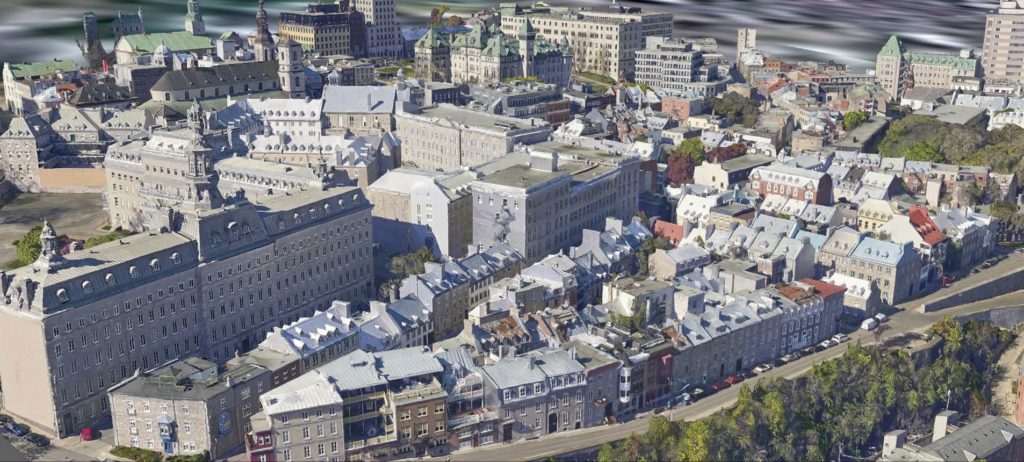 What is the purpose of a Digital Twin City?
The original idea behind the Digital Twin City was to obtain information to make better decisions. This information can be obtained directly or through different kinds of analyses and simulations. The key benefit of a virtual city is the ability to change variables to see how it would impact the city without actually having to make those changes in real life. For example, you could simulate a flood with different water levels to assess the extent of the damage and prepare an emergency plan adapted to the real impacts.
Different levels of analysis and return on investment
The basic Twin City is a 3D digital textured model. It can be used with different software and platforms. Because it is an accurate representation of a city on a given date (the day the flights captured the images and LiDAR data), the first benefit to an organization is that it makes navigation of the virtual city available to all employees. The ability to visualize the state of a location without having to go there makes it easier to base decisions on reliable and up-to-date information. For example, a tax assessor, insurance company, or land surveyor may want to know whether a swimming pool is located at a given address, a garage has been built, or a given building is faced in brick or wood. They will also be able to see information such as the exact footprint of the building, or its distance from a nearby stream.
Updates to the Twin City offered by XEOS Imaging are used to automatically detect changes. Additions of, or changes to, a building, pool, or patio, as well as changes to the tree canopy or heat islands can be easily identified.
Adding other information layers for transport or communication networks (cars, public transit, bike paths, sewers, water pipes, etc.) elevates analyses to a higher level. For example, you can simulate how an extra lane, a bridge, a one-way street, or a roundabout would impact traffic congestion. The result is that the digital Twin City significantly improves the amount of high-quality information available to make better decisions and significantly optimize investments that run into the hundreds of millions of dollars.
We use the term "smart city" when we add real-time information from different sources. For example, a city might install sensors in different locations to gather information in real time (e.g. traffic, drinking water flow, water pumping power, waste collection) and use that data in the Digital Twin City to simulate different scenarios to optimize services and reduce the final cost of water pumping or to reduce traffic congestion.
The XEOS 3D CITIES Program – accessible Digital Twin Cities
At the end of 2021, XEOS Imaging launched the XEOS 3D CITIES Program. This program aims to generate digital Twin Cities for every medium and large city in Canada over the next five years and make them accessible at a low cost. The company plans to update this data every two years. Our virtual cities have a resolution of 5 cm per pixel and a very high visual quality.
Other sub-products are also generated by this program, including:
True Orthophoto at 5 cm resolution;
Highly detailed LiDAR point cloud at a density of 30 points/m2;
RGB and infrared stereo models;
High-resolution digital terrain model and digital surface model.
How to purchase our data: two turnkey package options
There are two ways to obtain data from our 3D Cities Program: purchase or subscription.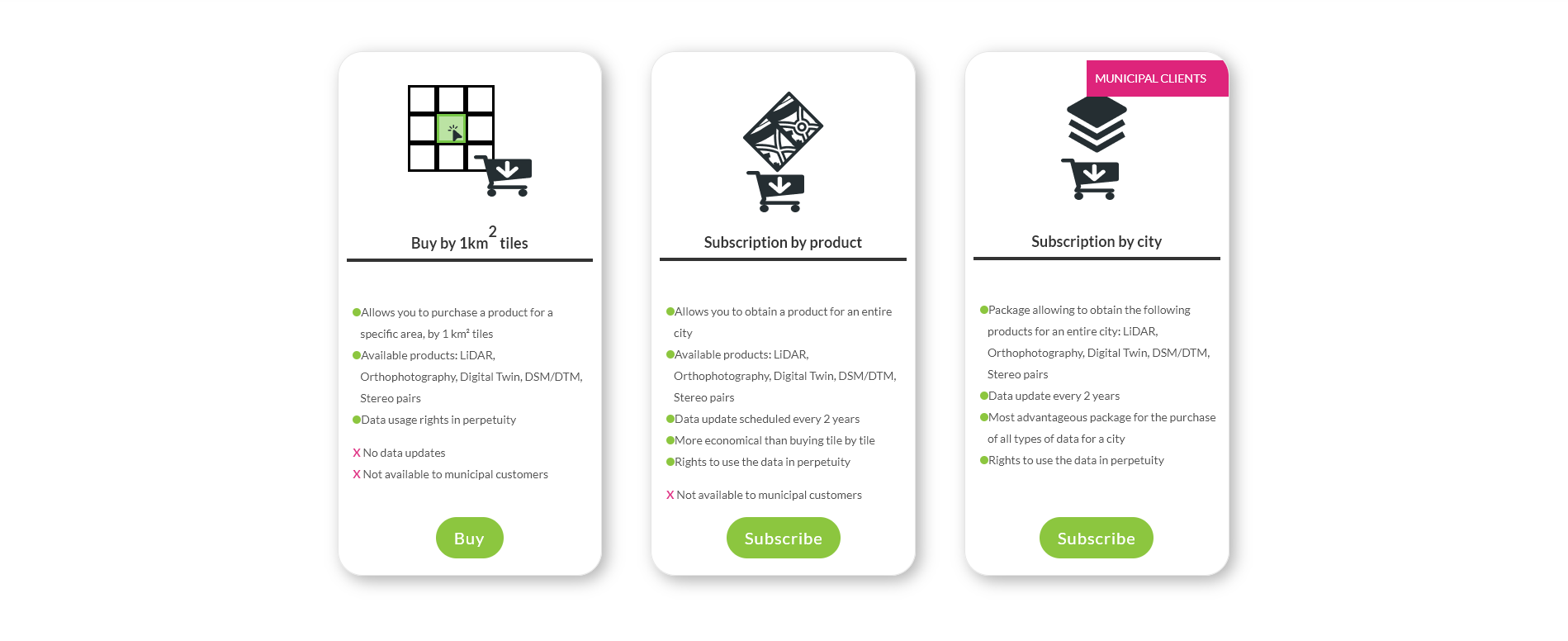 Purchase
Purchasing is meant for people who need data for very small areas. Our data are available in one square kilometre tiles. Their price varies from $100 to $400, and while they remain the property of XEOS Imaging, user rights are granted in perpetuity, provided they are not resold or shared outside of your organization.
Data can be purchased directly on the XEOS Imaging website at xeosimaging.com.
Subscription
Subscriptions allow users to obtain complete coverage of one or more cities. A subscription lasts for three years. We plan to update our data every two years. All updates are provided automatically to clients who use the subscription model. All data provided to clients during their subscription will remain accessible to the client in perpetuity, provided they are not resold or shared outside of the organization.
Subscriptions can be purchased directly on the XEOS Imaging website at xeosimaging.com.